It's 2 week hiatus for me. I enjoyed it since most of the part was time with my family.
am counting on the last week of the rest and finally will be working for the new company.
I'm pretty excited with the new task but somehow a lil melancholy w/ my prev company coz I would really love to work with them just some problems became really unbearable in the previous months thus the new application. I would definitely miss my boss, he's the posh one among the brits :) but i kinda like them all coz the office offers lax environment plus you can always wear clothes you feel like wearing. no super strict attire or something that you can wear flip flops ;D. I would also miss Jim, he's of all the PM has been a friend that he will even tell you story of his lovelife and not even be ashamed to let us peek his daughter's love letter/card for him when she visited him here. I would also miss Abhi, Jack, Khaled, Prateesh even Ken. Most importantly I will miss Lhen, she was not just a colleague but a wonderful friend as well. We may always just laugh at situations but sure we had some good times through it. We know we're sad but most often we just shout to let it out, then laugh non-stop thinking we're stupid at that lol. Sometimes time flies when we're together. I hope she can find a new company soon.

the group last Christmas party
Before Eid, me and my family went to Hilton RAK for some needed chillaxation. We decided it should be before Eid to avoid the sky-rocketting rate during the Holidays. T'was 2 good days for all of us.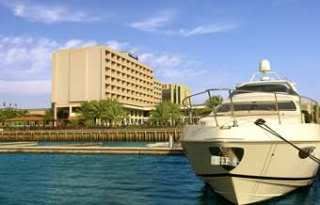 where we stayed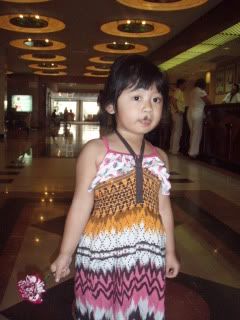 Chinchin @ the narrow lobby

upon arrival w/o welcome drinks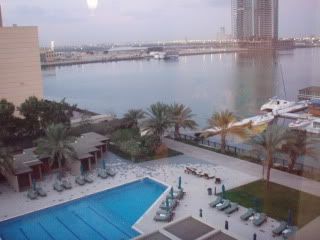 one consolation, we had a nice view but we waited for or an hour for it considering we reserved a week ahead
Though Hilton Hotel cannot be compared to Hilton Resort and Spa, yes there were two hiltons at RAK. Sad to say, the hotel we stayed was not the so good one. But still it's a 5star at that? Imagine we don't have slippers inside the room, we need to call the reception twice for two slippers. Just one bathrobe inside and not much available tissue, we just ransacked the hosekeeping cart when we got sight of it. Though I kinda like their Crabtree & Evelyn toiletries. Breakfast buffet was nice but not excellent. Swimmingpool was blah.
Then off we go to the Resort and Spa, well for one the view is lovely, the landscape is amazing, the lobby's spacious and nice, the facade's excellent.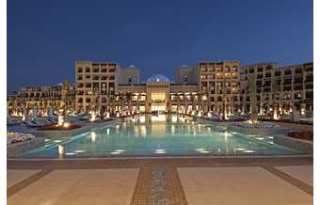 Hilton Resort and Spa

We should have checked in here. we enjoyed the pool, actually were the only ones who were really loud as much having fun is evident.

the salty part of the pool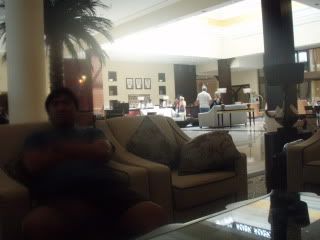 very nice lobby while we waited for the golf cart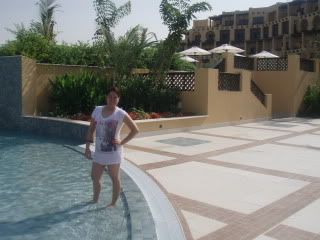 Most of the guests were at the beach front tanning those bodies. for us though, the water in the pool is excideedingly nice. Guess we tasted it salty coz it came from the beach.